Since 2001, the BCFED Health & Safety Centre has developed leading-edge training by utilizing adult-oriented learning techniques aimed at assisting workplace OH&S Committees build their knowledge and skills, and supporting them to play a proactive role in the prevention of occupational injuries and diseases.
During this time, we've developed numerous OH&S courses that are delivered across all regions and communities in British Columbia.  We've worked with numerous companies, unions and municipalities to provide targeted health and safety education to over 10,000 people.
Our Unique Delivery System
Adults learn best when they see immediate applications for the principles and concepts they learn in training sessions.  Our approach to training delivery ensures this occurs by mixing hazard identification, assessment and control theory with practical workplace examples.
At the heart of our unique training delivery system are our qualified instructors.  Each is well-schooled in adult education techniques and occupational health and safety concepts.  But equally important, they are drawn directly from British Columbia workplaces bringing with them extensive practical workplace experience.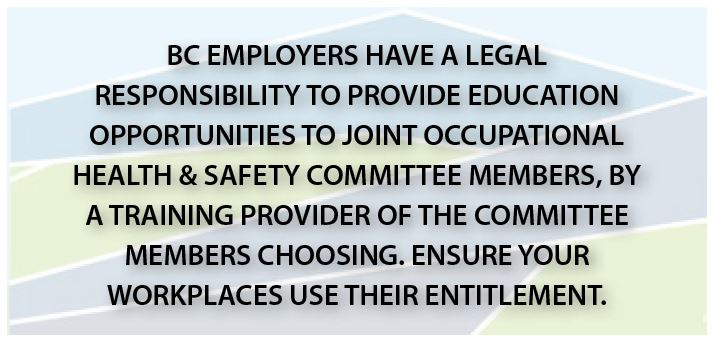 Being funded by the Workers' Compensation Board, the BCFED Health & Safety Centre is a recognized training service provider . Our courses meet the criteria for the eight hours of annual education that Health and Safety Committee Members are entitled to under the Workers Compensation Act (Division 5, Section 41).  The costs of the training course and reasonable costs of attending are paid by the employer.
The BCFED Health & Safety Centre recognizes that each workplace is unique.  Arrangements can be made for the Centre to provide private sessions for individual workplaces and unions. We have more areas of the Province we are planning to visit, so if you would like us to come to your Community let us know!
Where to start:
Occupational Health & Safety Part 1
Occupational Health & Safety Part 2
Improving Committee Effectiveness
Incident Investigations
Understanding and Conducting Risk Assessments
Full Course Calendar
There are upcoming courses in your area! Choose from a wide variety of topics and times to suit your needs.
Register Now
Request a Course
Please feel free to request a course at a different time or in a different location, if you don't see what you care looking for
Request a Course
**All courses count for .5 elective credits towards the BCIT Occupational Health and Safety Certificate and Diploma Program.