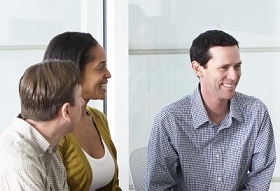 Since 2001, the BCFED Health & Safety Centre has developed leading-edge training by utilizing adult-oriented learning techniques aimed at assisting workplace OH&S Committees build their knowledge and skills, and supporting them to play a proactive role in the prevention of occupational injuries and diseases.
During this time, we've developed numerous OH&S courses that are delivered across all regions and communities in British Columbia. We've worked with numerous companies, unions and municipalities to provide targeted health and safety education to over 10,000 people.
The goal of this free 9-week program is to educate participants about workplace health and safety using an ESL curriculum model. READ MORE
The goal of these three-hour educational sessions is to provide migrant or foreign workers with basic OH&S information on workers' rights and responsibilities, employer responsibilities, OH&S Committees, role of the WCB and hazard identification. READ MORE
The goal of our training is to promote new evidence-based return to work principles and strategies designed to produce Return to Work outcomes that are effective, efficient, sustainable and provide therapeutic value to employees with disabilities. READ MORE
Under the Canada Criminal Code, supervisors, employers and managers can be charged with criminal negligence and possibly jailed when they fail to protect the health and safety of workers and others in their workplace.
Unfortunately, far too many supervisors are given these responsibilities without effective communication or training around the legislation. READ MORE
Since 2003 the Centre has offered workshops to young workers in high schools and employment programs in communities across the province, and there have been over 40 young workers from various affiliates trained to deliver these interactive workshops. READ MORE